We offer some varied and interesting bed & breakfast accommodation that respects the old farmhouse, built in around 1581, and its 18th century granary. Sleep in comfortable beds with Egyptian cotton sheets and good size ensuite bathrooms. All very snug and warming and a great place to chill.
The food is excellent and if we say it say it ourselves many others do as well. Eat interesting, well executed and delicious food. We choose our ingredients - meat, fish, cheese, fruit and vegetables from local suppliers and Welsh producers. We select beers, wine, sherries from a UK regional wine merchant of the year winner - because we like them and think you will too. we have just received another Highly Recommended in the British National Cheese Awards for our cheeseboards.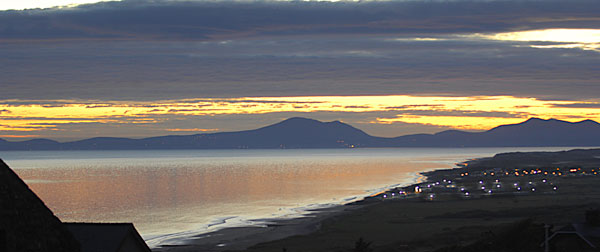 We love the atmsophere here and we like to welcome visitors to these very interesting buildings that ooze with rustic and historic character - a great departure from the modern antisceptic chain hotel.
There are great delights outside as well. The views across the bay to the Lleyn Peninsula, fantastic sunsets and at night on clear nights the view of the stars is a true surprise to many people who stay with us. The twilight is also a gret time to watch out for bats.
So come and join us for a few days and let us look after you while you explore the delights of this beautiful region in and around Barmouth and Snowdonia.